Misleading screenshot claims Cadbury dairy milk contains gelatin derived from beef.
A screenshot have been taking rounds on internet since one week claiming that Cadbury products contain gelatin that is halal.
This is the screenshot that is being forwarded on twitter, Facebook and Whatsapp. This particular screenshot is from an Australian website.. but due to serious claims it is being circulated in India everywhere claiming that Indian Cadbury products also contain gelatin.
Twitter
Along with the screenshot a hashtag named #boycottcadbury is also run on twitter to escalate the situation.
Dear Cadbury Lovers enjoy the taste of beef 🍖
Congratulations to all lovers pic.twitter.com/gjeQLLG6P9

— 🚩शुभम🚩छोरा_सरयू_किनारेवाला (@sforshubhamfzd) July 20, 2021
Cadbury Dairy Milk uses Halal certified gelatine derived from beef!#boycottcadbury pic.twitter.com/15uaeM0aaQ

— Murli Krishna🇮🇳🇮🇱 (@Covi1979749381) July 20, 2021
और करो कुछ मीठा हो जाए दीपावली पर pic.twitter.com/3x5uei3tSL

— AAHAT INDORI (@AAHAT_INDORI) July 19, 2021
In another tweet a so called factarian, who has been caught many times spreading fake news adding to communal hatred, Madhu Purnima Kishwar assked for the clarification.
We need a clarification from @PiyushGoyal minister for consumer affairs whether @CadburyIndia is also using ingredients that include beef products?
They admit openly that they are doing so in Australia.
What about Cadbury products in India? https://t.co/4xmDMxTjXp

— Madhu Purnima Kishwar (@madhukishwar) July 17, 2021
He vegetarians please note that Cadbury has admitted that their products may contain Halal Certified beef.
Just for your information.
Khane ka hai to khao.
Your choice. pic.twitter.com/UcjPqHdEFI

— Rajesh Gehani 🇮🇳 (@rrgehani) July 18, 2021
Facebook
The same rage was seen on Facebook as well
This below post in Bengali also forwarded the image with the caption – Beef in chocolate?
Truth
The screenshot is from Australian website of Cadbury's but in India, it's completely veg.
Since the claims were very serious we decided to run a fact check.
1. Firstly, the screenshot is from an Australian website. Australia doesn't have beef ban so whether they contain or not is not that much of an issue there.
2. Secondly, Mondelez International Inc. – one of world's largest snacks company who manufactures Cadbury products in India also clarifies through a public notice that they don't involve any kind of gelatin or non-vegetarian ingredient in Indian products. Mondelez manufactures Cadbury 5Star, Cadbury Dairy Milk Silk, Perk, Gems, Oreo and more in India.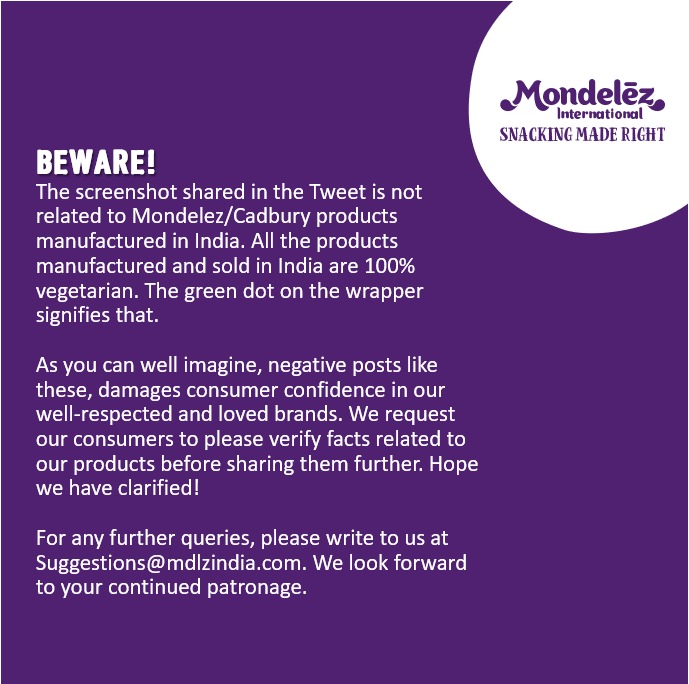 Cadbury Dairy Milk's official twitter handle also posted this notice to clarify the doubts among Indian consumers.
— Cadbury Dairy Milk (@DairyMilkIn) July 18, 2021
But still this much of an information or a statement from the company that is already involved in the case is not credible. Hence, we worked in detail to find out third party's take on this and we came across FSSAI – Food Safety and Standards Authority of India's 2011 guidelines. FSSAI has clearly mentioned in this guideline that all the vegetarian and non-vegetarian food products must bear a sign indicating and bifurcating the two from one another. They have released a brown/red color dot for non-vegetarian products and green color dot for vegetarian products. They explicitly directed all the companies to follow this guideline and include the sign color in advertisements as well.
We found out that Cadbury in all its products do include the green color dot as directed by the FSSAI.
One can clearly see the green color dot sign available on the wrapper of Cadbury Dairy Milk.
And this is the list of ingredients in the chocolate.
Along with this they have also mentioned the same in their ads. Below attached is 2017 advertisement of Cadbury Dairy Milk which highlights the green dot sign.
Plus Amazon also mentions under product description regarding Cadbury products for India that they are vegetarian.
Hence, we can safely say that Cadbury products produced for Indian market are 100% vegetarian and that the screenshot circulated is to mislead people.